2. Two billboard banners, one on the left and the other on the right image area of the homepage

3. Advertiser's banner will appear on top of every story published on the website

4. Advertiser's banner will be on TheCable newsletter sent daily to over 120,000 email addresses

5. Free posting of videos of advertiser's event sin the Must-see section (once in a month)

6. Free posting of pictures of advertiser's events in the Photo Gallery section (once a month)

7. Regular use of advertiser's stories in the Top Stories (equivalent of a newspaper's front page)

8. Promotion of advertiser's stories through our social media handles
There are no reviews yet for this product.
Be the first person to add your review.
Reviews can be left only by registered users.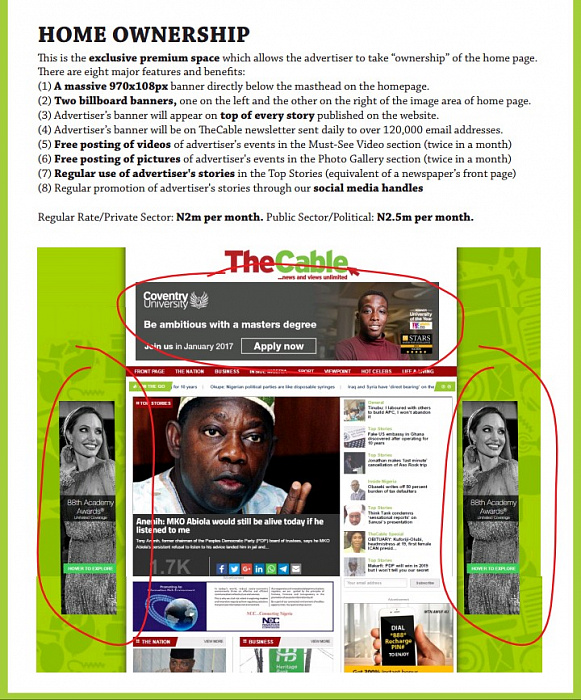 We support the following payment options for advertising:
To the current account under the contract
Bank transfer through a mobile bank for individuals (under the offer agreement).

Advertising is launched after 100% prepayment.
The invoice is automatically billed in your account after the seller confirms the order.
In case of late payment, the schedule for advertising may move.

If you have any questions about payment, call the toll free number +7 800 1002 592
The seller provides a report on the release of advertising after the end of the advertising campaign.

If the advertisement is not made through the fault of the seller - the seller compensates for the output of the advertisement as agreed with the customer